In this article we'll walk you through how to update the design from your automated campaign.
Step 1:
First go to your Campaigns page and click on the active automated campaign that you would like to change the design on.

Step 2:
You can only edit the design of automated campaigns that have been stopped. Follow the steps here to stop your active automated campaign and then continue to Step 3.
Step 3:
Now that your automated campaign is stopped you'll be able to edit the design of your campaign. Under the Design section of the campaign page, click the Edit button.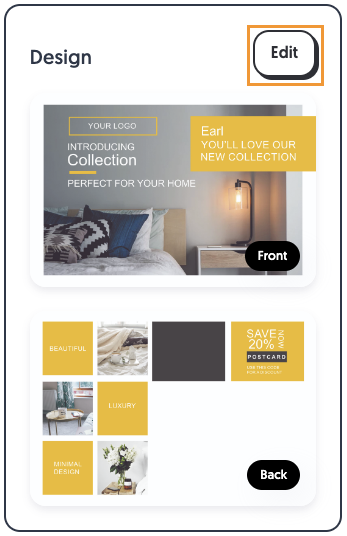 Step 4:
On the next page you'll want to choose which new/updated design you'd like to use for this campaign. Once you've done that, click Update and confirm your choice.
Please note:
The available designs shown in the drop/down options are the same size as your previously used design.
Step 5:
Once you've updated the design you'll just need to restart your campaign and then you'll be all set to go!