In this article we'll go over how to restart your automated campaign if you run out of postage funds.
Step 1:
First go to your Account page and click Add Funds.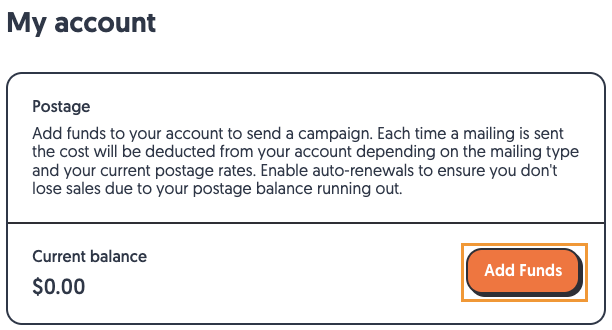 Step 2:
Input the amount that you would like to add to your account. Next, click Add Funds to submit your request.

Please note:
We highly recommend enabling your postage auto-renewals before continuing with the next step. By enabling this feature you can ensure your account does not run out of postage funds and your campaigns will not be unintentionally paused. To enable postage auto-renewals simply revisit your Account page.

Step 3:
Once funds have been added, go to your Campaigns page and select the campaign you wish to restart. Once selected, click the Activate button to restart your campaign.
Once active, any cards that have been added to the queue will be sent immediately to any recipient(s) that is eligible for your campaign.