In this article we'll go over the Print Design Guidelines for creating designs on PostPilot.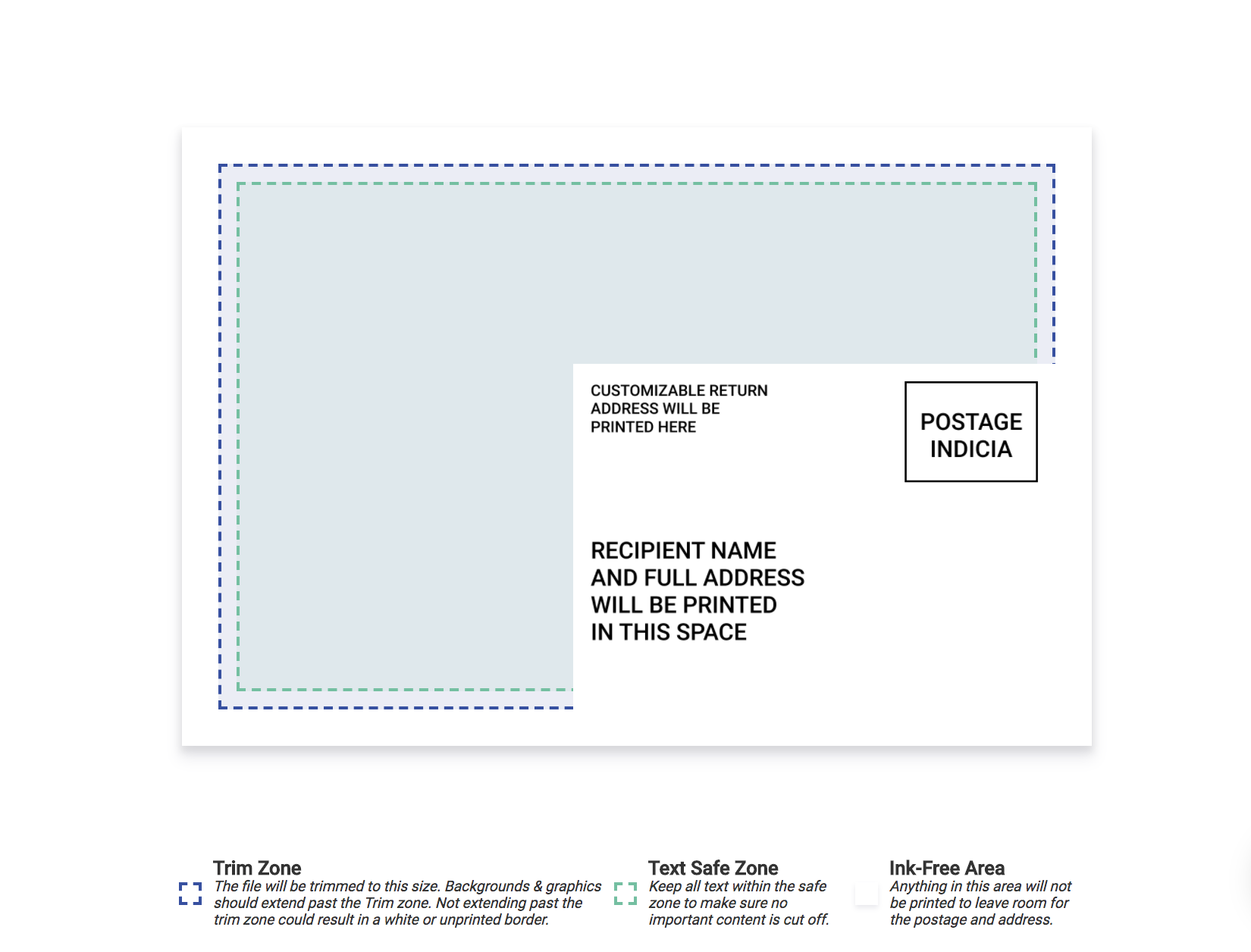 Trim Zone
For best results, your design should be approximately 0.25" inches larger than the actual card size.

Specifically, a 4" x 6" postcard design should be 4.25" x 6.25"; a 6" x 9" postcard design should be 6.25" x 9.25"; and so on.

This extra space is called the bleed area and helps account for any printing and cutting variations to ensure that there are no white borders once the card is trimmed.
Text Safe Zone
Make sure to keep all of the text within the safe zone. This will guarantee that no important information or words are cut off during the trimming process.
Ink-Free Area
There's a dedicated space on the back of each postcard we call the ink-free area.

Anything you add to this area will not be printed - so please be careful when creating your design! This is to leave room for the required postage and address information.
Image Formatting
When uploading a PNG or JPEG file, please keep in mind that a minimum of 300 DPI (Dots Per Inch) is required.
DPI is calculated as follows:

Here's an example using an image that's 1275px x 1875px used to create a 4.25" x 6.25" postcard:

Lastly, please make sure that the files you upload to the app are less than 10MB in size. If either side of your design is too large that could impact printability.
Downloadable Templates:
4.25" x 6.25" Templates:
4.25" x 6.25" International Card PDF
4.25" x 6.25" International Card Back PNG
6.25" x 9.25" Templates:
6.25" x 11.25" Templates: