You can create a series of coupon codes in PostPilot that auto-generate in Shopify and automatically replenish as needed.
Even if you've already connected your Shopify store, you'll need to reauthorize the PostPilot app to use PostPilot's Shopify Coupon generator.
To do so, login to PostPilot
Tap Coupons
Tap New Coupon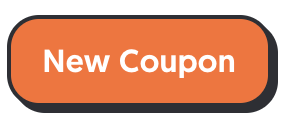 Select the Shopify Coupon Code type by tapping 'Start' in the appropriate tile.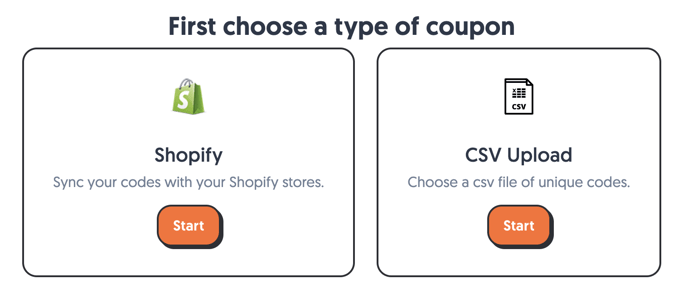 -Your list of stores will display on the page (you may have only one connected). Tap 'Reauthorize' next to the appropriate store. This action will bring you to PostPilot app page in the admin portal of your Shopify store.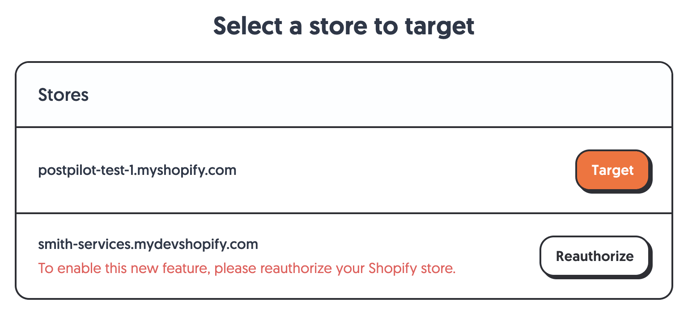 -Tap 'Update App'. This will perform the required authorization action and bring you back to the PostPilot app.
Now tap Target from your list of Stores

Fill in the appropriate data for your coupons.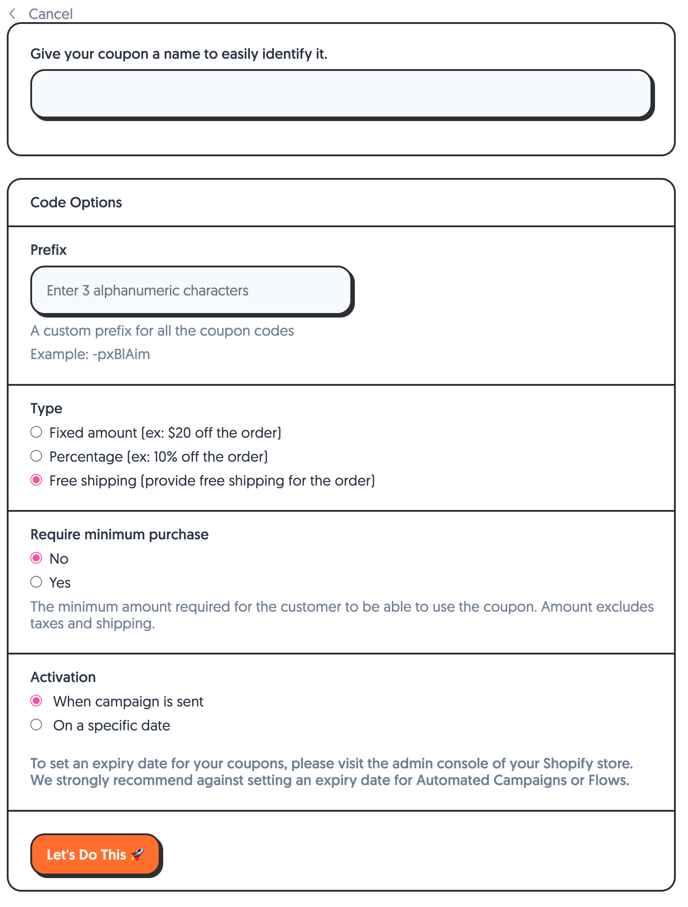 -Coupon name (to easily identify later)
-Coupon prefix (3 characters that will lead every coupon). PostPilot will auto-generate the rest of the coupon for you.
-Discount Type (Fixed amount, Percentage, Free Shipping)
-Minimum Purchase (before taxes and shipping)
-Activation Date
Generating codes after creating your coupon
PostPilot generates coupon codes for Automated Campaigns and Flows automatically, but if you plan to use your codes in One-Off Campaigns, you must manually generate coupon codes.

Once you create the parameters for your coupon, specify the number of coupon codes that you want to generate. This must be done before you send your One-Off Campaign. When doing this, there are some things to keep in mind:
-You must generate at least as many codes as expected recipients. This means that if you generate fewer codes than the number of estimated recipients, you will not be able to send the campaign.
-If the actual number of recipients for your One-Off Campaign is greater than the number of codes you generate at send time, the extra recipients will be skipped and will not receive the mail piece.
-If you generate a large number of codes, allow time between your campaign's desired send time and when you create the codes. Generating a large number of coupon codes may take up to several hours.
You can view all of your coupons from the Coupon List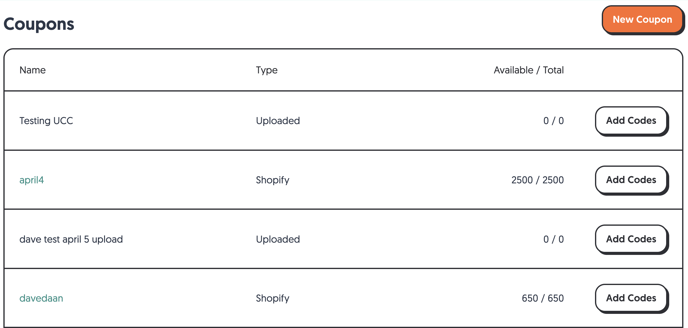 You can generate coupon codes for a particular coupon by clicking the Add Codes button next to each coupon in the list.